Have you thought about conducting a "minor breakup" with the large software companies without any sacrifice to product quality? Before going any further with purchasing any kind of office type media suite from a software juggernaut, read this post first…
Let's take a hypothetical scenario that's all to familiar in the office environment.  You woke up, turned on your outdated 2008 computer terminal, poured a hot cup of coffee, stretched, sat down once you finally saw the desktop, opened the browser, downloaded a file you needed from email and clicked on it only to read the message prompt, "Please update your software."
It's that time where your computer, or computers for that matter, are long overdue for software updates. Perhaps one of them crashed and you, who we'll start formally referring to as "The I.T. Guy," has the task to replace the hard drive along with drivers, operating systems, and of course, office software. Maybe you've just purchased a new computer and found it sans any word processing or presentation software.
The greatest drawback to office suite programs that hold word processors bundled with billing, invoicing, drafting, and presentation software is cost.  Buying office suite package software for your small business from big companies name such as Corel, Amicus or Microsoft, potentially costs hundreds, if not thousands. If you're looking to fix a computer on a budget, the purchasing of a single license might not be feasible either.
In an era of open-source software, another office suite software program that stands out, aside from Apache's OpenOffice is Kingston's Free Office Suite. The program's interface is modernized and functions well for a small 60 mb program when compared to the 3.0 GB behemoth that is Microsoft Office 2013.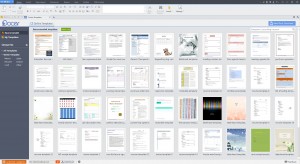 Features:
Office package includes tools for spreadsheets, presentations, and free online template design.
Interface is very easy to follow and similar to what you would expect to see in other Microsoft and Corel based products.
Support and Sync files by logging into the WPS Cloud using your facebook, twitter, or gmail account so they can be stored, and modified online.
Converts files to PDF.
Document Encryption Included
Compatible with Microsoft Office 2003, 2007, and 2010 formats.